The Beauty of Custom Diamond Rings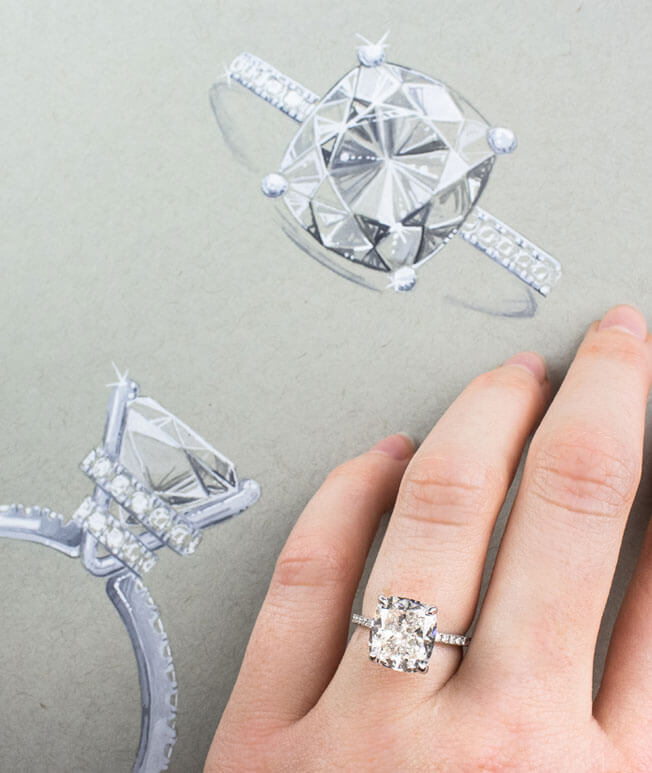 Everyone always wants their things to be unique, especially when it comes to something they wear. Jewelries are one of women's obsessions and rings are one of the jewelries they can't live without. And when it comes to ring, diamonds are the number one choice for women especially for their engagements or even other events in their lives. Rings can symbolize a lot of things, for engagement rings it can be a symbol of commitment from your partner or rings that are given by your loved ones can reflect how much they value you. Custom Diamond Rings can be a wise choice when planning to get a ring for your loved ones, a personalized ring can be a way to show how much you know your partner.
Steps in Getting a Customized Ring
Get Ready with a Layout
Just like any other project layout is needed when you wish to design your own diamond ring. You should be able to know what are the characteristics of the ring you wish to have. Factors such as shape of the center stone, settings to be used, metals to use and other factors. Be as imaginative as can be , knowing your partner's preferences can also help you in creating an idea of what custom-made engagement ring you should have.
Settings to Use
There are several settings that can be ideal to choose from for your customized engagement rings. Here are some recommended settings:
This setting can secure your center stone 100% because in this setting the center stone is enclosed with a metal rim. There are two options: the half bezel and full bezel, both however can secure the center stone of your ring.
For this setting the center stone is protruding and the usual appearance of engagement rings. The center stone is emphasized in this setting. 4 to 6 prongs can be ideal to be able to put the ring in place.
For these settings the stones are embedded on the shank itself or an elevated metal is placed where stones are placed. This is ideal for multiple stones or center stones can still be emphasized.
Unlike channel settings, for pave settings stones are fastened on the top of the shank. Small stones surround the shank that can add up to the brilliancy of the rings.
Metals to Use
Part of designing your own engagement ring is choosing the metal to be used for your rings. Metals can be gold, platinum and silver. Here are several kinds of metals use for rings:
The color of platinum can aid in making your diamond shine more , since the color is also shiny it can match the sparkle of the diamond's glass like appearance.
Yellow gold is flexible since they are a combination of gold plus zinc and copper , with this property it can be easier to mold to the design you wish to have for the bank of your custom-made diamond rings.
This metal is a combination of gold and white metals such as manganese, nickel or palladium. This can be a good alternative since they are more affordable but the same shade with platinum.
The pinkish color of rose gold comes from the combination of gold and copper. This is ideal for people who want something warm for the color of their rings. It is also more affordable than yellow gold.
Rings Style To Use
This is a good choice since it can secure your rings as well as durability is assured with this type of rings style.
If you want to add a twist to your ring, a twisted band can be a good choice. It can add spice to your ring. Accent stones can also be added to maximize the beauty of your ring.
If you want a more sophisticated ring, you can opt for a split shank.
Once you have decided on the details of your ring you can now build your own diamond ring by putting all the details and discussing with your jeweler on where to start. Custom designed engagement rings are easier to create when details are already prepared ahead. Custom diamond rings are more personalized than ready-made ones.